Important - We are Open
As per the Prime Minister&rsquo;s announcement, we are reopen under Covid-19 Alert Level 2.<br /> For more information in regards to how we are running our facility visit our covid-19 updates page or call 06 370 0060
Trust House Recreation Centre has been proudly managed by Belgravia Leisure on behalf of Masterton District Council since 2017.

Located right across the road from Queen Elizabeth II park, Trust House Recreation Centre provides the Wairarapa District with an array of facilities such as:
Full sporting and events stadium
Split level fitness centre
Specialized fitness programmes such as Begin
An award winning Swim Tangaroa Swimming and Water Safety Programme
B-Legends Out of School Care
Full aquatics department including spa and sauna
Staffed with highly experienced individuals - we pride ourselves on giving all visitors the best experience.
We are open every day, apart from Christmas day and Good Friday so if you are new to the area or just passing through ensure you pop in for a visit!

ALERT LEVEL TWO AT THE CENTRE:
WE ARE CASHLESS.
To avoid handling cash, we prefer contactless payment. (EFTPOS, CREDIT, etc)
Please ensure you have booked AHEAD of your visit.
We can only have a maximum of 100 people in the facility. If you have not booked your visit you may be turned away and asked to book another time.
MASKS:
Please ensure you have a mask on BEFORE you enter reception unless you have a medical exemption.
We do not have masks to buy.
Facility Hours:
Monday - Friday
6am - 7pm

Weekends and public holidays
(including observed)
8am - 6pm

Spa closes every Friday at 1pm for cleaning

Full facility closed:
Christmas Day
Good Friday
ANZAC Day 1pm - 6pm
Discover Trust House Recreation Centre
Visit our facilities pages for more information on what the Trust House Recreation Centre has to offer you!
Water, what is it good for?
Drinking enough water every day is crucial for many reasons: Organ function, prevention of infection, cellular nutrition, joint health and regulation of body temperature. Learn more below.
R U OK? Day
Much like 2020, 2021 has been a challenging year, to say the least. Due to government-mandated lockdowns, we have all endured numerous lockdowns which can take a significant toll on our mental health. R U OK? Day is here for 2021 and it is a great opportunity to check in on those around you.
Swimming Nappies – why they are important
It probably wouldn't be the best idea to try and get away with popping a regular nappy on your child when it comes to swim lessons or beach days... it's likely to end in a disaster, trust us! Regular everyday nappies are purposely designed to be super absorbent, which is obviously what you want when on dry land. However, when you're submerging your little one in water, you'll find that a regular nappy will swell up and become so waterlogged, as it absorbs the water around it. Now that's not ideal – is it?
Becoming Your Own Champion
Becoming a champion does not mean we need to represent our country or even our state, being your own champion is being proud of your accomplishments and setting yourself goals to work towards. How can you set yourself on your own path to greatness?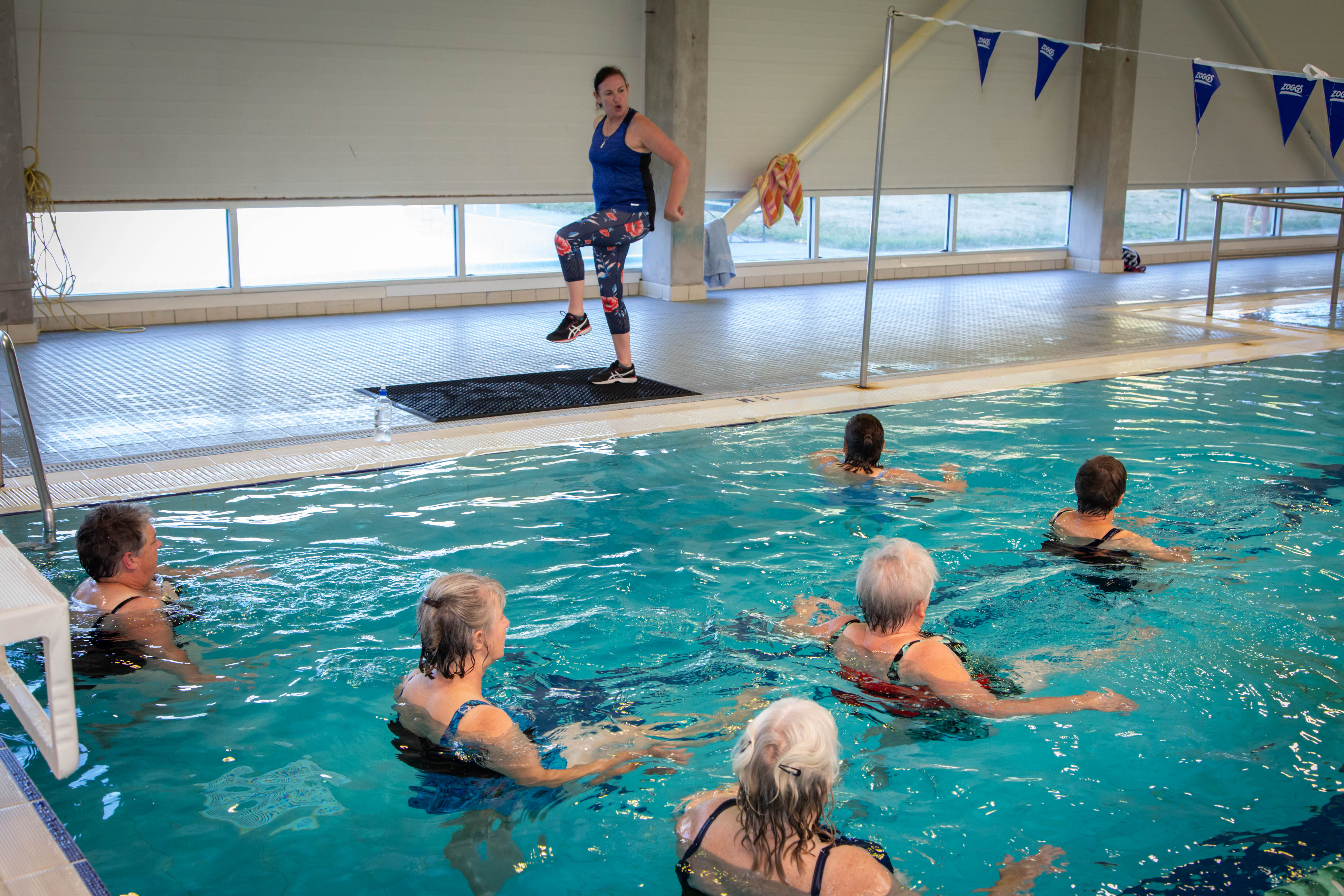 Aquatic Classes
Using the resistance of water automatically increases the intensity of your workout, helping to increase your strength, flexibility and your overall health.
As of 1 December 2020
If you are under 12 years you must be actively supervised by an adult at all times when visiting the pools.
If you, the supervisor, need to leave the facility, the children you are supervising must also be removed from the water. They cannot be left in the facility unsupervised.

Mature 16/17 year olds are accepted as responsible supervisors. If we are unsure of your age, we will be asking for student identification.

Ratio:
1 active supervisor to 3 swimmers between 5- 12 years of age. An adult/parent must be in the water with all children under 5 years.

The changes were made in response to incidents at the pool over the last 18 months and in response to advice from the police. This is a direct outcome from recent incidents where our young people have been either approached or abused by adults with menacing intention, had property stolen or been left for an extended period of time at the pools. The latter giving rise to anti-social behaviour from being bullied, tired and often having no food.

The pool facilities are an amazing, fun community space for families to enjoy and spend time together.

Lifeguards are on duty to watch over the entire pool spaces, to prevent drownings, rescue those who get into difficulty, ensure safety rules are adhered to, keep the facility clean and deal with customer's enquiries and special needs. They are highly trained and qualified. They take on huge responsibility and accountability to keep everyone safe in and around water and should be respected as vital community people.

It is not the job of lifeguards to be baby sitters and the policies have been put in place to ensure children are cared for by a suitable person. A supervisor must be a mature 16/17year olds actively supervise younger swimmers; 1 active supervisor to 3 swimmers between 5- 12 years of age.

Young teenage parents wanting to bring their child to the pool are more than welcome – they have the sole responsibility and control of their child at all times. The condition is 1 adult in the water to 2 children under 5 and wearing coloured bands obtained at reception. Children under 5, swim free.

Please contact the facility manager directly on 06 370 0060 if you have any concerns or questions.